Eight-Channel 720P HD All-in-One sPoE NVR Kit with 1TB Hard Drive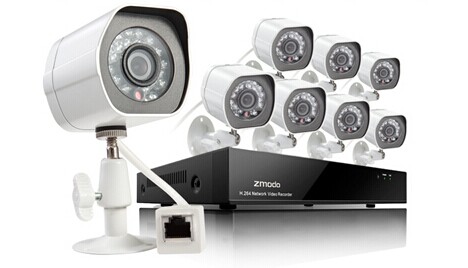 Power over EthernetA single network cable directly connects each IP camera to the NVR, supplying both power and video signals.

Quick Remote AccessConnect your smartphone or tablet to your system with a quick scan of the QR Code on the NVR.

720P HD Real-TimeCapture high-definition 720P HD video, three times higher than standard analog cameras.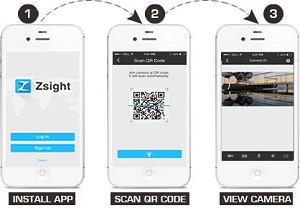 Easy QR Code Smartphone Setup
If you are comfortable scanning the QR-code with Smartphone, you can setup and remote access the sPoE system by yourself. Four out of five people view live video on their Smartphone in minutes or less.
With the new advanced QR Code Scan and P2P technology, you can connect your smartphone or tablet to your system with a quick scan of the QR Code on the NVR. No PC is required at all.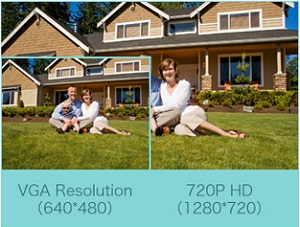 720P HD, See Bigger, Wider and Sharper
The system delivers 720P resolution at 1280 x 720, with sharper and larger image and video than standard analog systems. It provides more viewing pixels (1280 x 720 pixels), which translates into a higher resolution image with amazing details and superior recognition. Captures a wider, undistorted, digital image that provides an accurate aspect ratio and more detailed video for superior recognition.
Remote Viewing Anywhere Anytime

View live video of the system from anywhere anytime via your smartphone, tablet or PC. With advanced P2P technology, you are able to get remote access your system in minutes or less, no port forwarding needed. Remote access has never been so easy.

Intelligent Recording Save Your Space

Intelligent recording enables the system to record real-time @ 30fps when motion detection, and non real-time @ 5fps at usual, which will save your hard drive space. Intelligent recording allows you to record over 30 days with the pre-installed 1TB security-grade hard drive.
Always Stay Informed with Motion Activated Alerts

*You will get a push notification on your mobile when there is a motion detection, login to you Zsight account to check the alerts anytime you want.

*You can also set to receive an email with picture attachment when there is a motion detection.

Multiple Playback Options

*With hard drive installed, you are able to playback the video stored in your hard drive directly on our smartphone within LAN.

*You can also choose to copy the video via the USB port and playback on your computer.
See Crisp & Clear Image at Daytime

The 720P HD cameras included in the kit are equipped with IR-Cut filter, which provides true color image and video during daytime.

See 65 Feet Away in Complete Darkness

Experience high resolution night vision image and video in complete darkness up to 65 feet with the 24 built-in infrared LEDs.
Weatherproof for Both Indoor & Outdoor Use

The cameras are equipped with professional-grade aluminum housing, which will protect against rust, deterioration and glare.

Wide Viewing Angle

With 2.8mm wide viewing angle built-in, the cameras are able to cover more space with more details, up to 90 degrees.
Powerful Zsight and Meshare Web Client
Monitor without Worrying

After the initial setup, the NVR will be uniquely identified with your user account so that no one else will be able to access your videos and camera without your permission. Enjoy peace of mind knowing that your privacy and loved ones are kept safe.

Record, Capture and Save Treasured Moments

Our Zsight app allows you to easily record video and capture picture on your mobile device to save your most precious moments.
Share Your Device with Others

Zsight app allows you to share your devices with others, thus once you setup your system, your families can enjoy the convenience of viewing it remotely.

Update Your Firmware through Your Mobile Device

Updating your firmware has never been easier. Our app will tell you if an upgrade is available; all you have to do is tap a button and let Zsight do the job.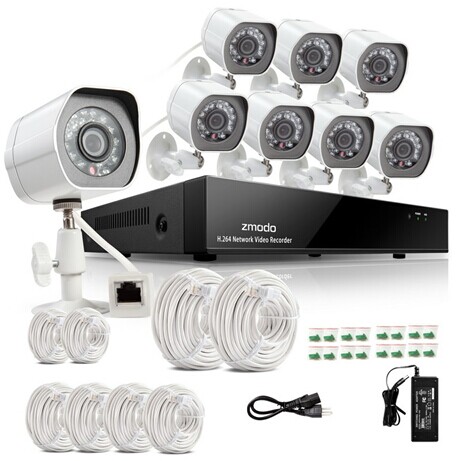 What's Included
1) 8-Channel 720P PoE Security NVR with 1TB hard drive pre-installed
8) 720P Bullet IP Network Camera
1) 19V 4A Power Adapter
1) 3-Foot (1m) CAT5e Network Cable
2) 50-Foot (15m) Camera Cables
6) 80-Foot (25m) Camera Cables
1) USB Mouse & Quick Guide